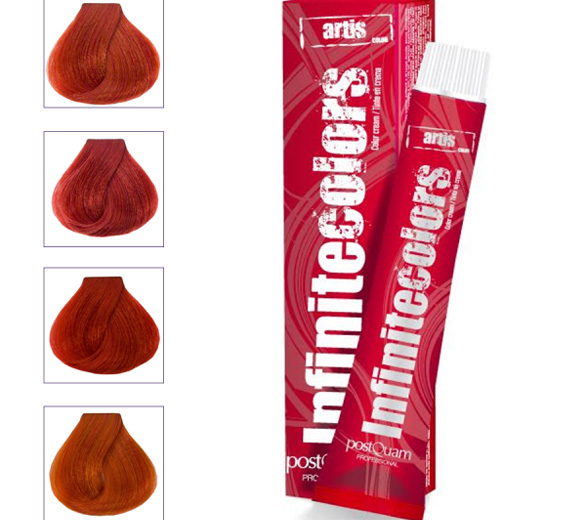 Infinite Color
Color cream that gives deeply intense,richly shining and lasting colors even on dark or previously colored hair using the habitual technique of the oxidation color creams without previous bleaching and in only one step.
Way of Use: use appropriated gloves, mix with 90 ml of Oxygenated for normal range or with 120ml for super lightening range.
CAUTION: Read the instruction carefully , The dye may cause Allergic Reaction in some Cases , Black Henna, Temporary tattoos may increase the allergy hazard , this products in not designed for under 16 years , do not use for eyebrows and eyelashes, well rinse the hair after application . In case of contact with the eyes, rinse immediately with abundant water.
For professional Use only.
How to Use
Removal the original tone is not necessary.Combine 60 gr.of infinite colors with 90ml.of Cream Developer.The volume of Cream Developer depends on the original color of the air and the desired finish.
| | | | | |
| --- | --- | --- | --- | --- |
| Type of Hair | Original Tone | Cream Developer | Exposure Time | Comments |
| Natural | Black | 20 | 20-30 min | |
| | Dark | 20,30, or 40 | 20-30 min | Higher Volume, lighter shade |
| COLORED | 1,2,3 | 30, 40 | 20- 30 min | Not a very noticeable result |
| | 4, 5 ,6, | 30, 40 | 20- 30 min | Higher Volume, lighter shade |
| | 7, 8, 9, 10 ,12 | 30, 40 | 20- 30 min | Eccentric result |